A new showroom presents an opportunity for a company to show off its core values. And with the Faro Barcelona showroom located in El Born neighbourhood the space accomplishes that goal perfectly. The space is organised like a mixture between a laboratory and a sculptural exhibition space. Accommodated within a typical ground floor unit of the Born / Ribera neighbourhood, on C/ Princesa (near the corner of Paseo Picasso), the high ceilings and architectural details are the perfect setting to display the designs of this native Barcelona company. With a large expansive window onto the street the space is adjacent to Biosca Botey and in fact shares a common reception area and research zone with the lighting shop.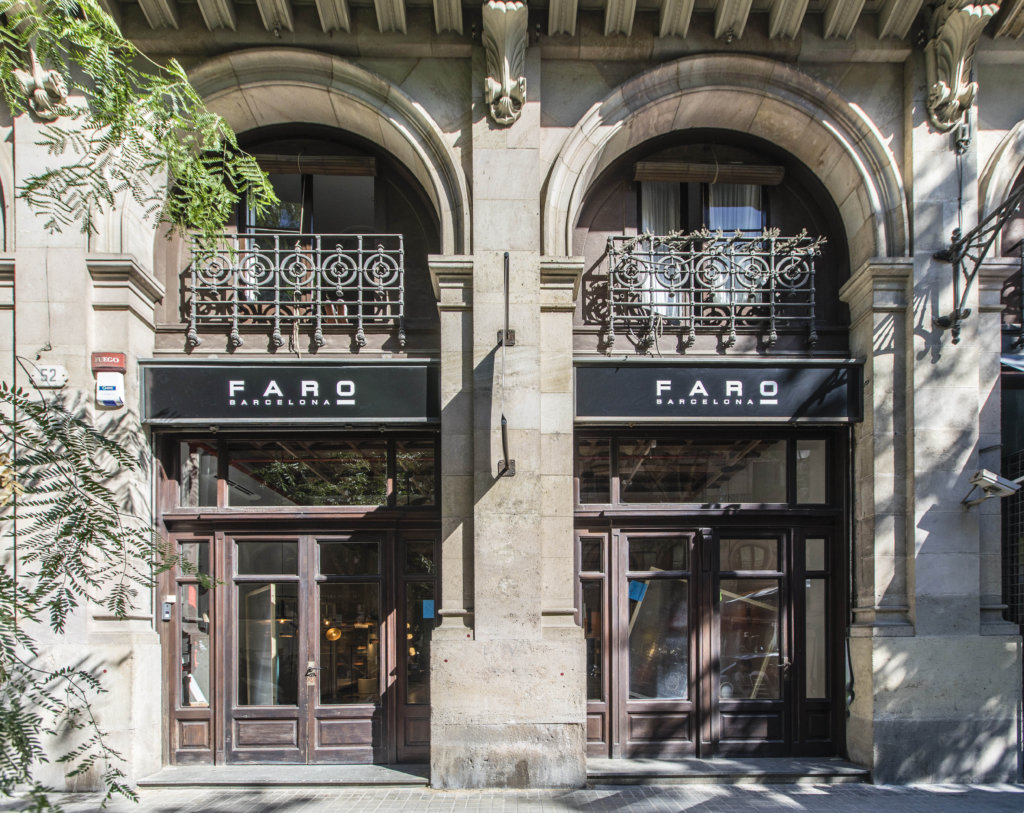 This beautiful area of Barcelona is a great place to discover the
lamps and ventilators produced by the Faro Barcelona company. The space is a
flexible open plan volume which is organised into a series of moveable
polycarbonate panels used as displays. The panels are anchored by concrete feet
that allow the exhibition to be organised in numerous configurations. At the
very centre is a circular metal structure with plants and lamps creating a
green focal point that reflects the company's environmental credentials – Faro
has introduced a pioneering initiative in collecting waste packaging. The
renovation was carried out by the interior design studio Piedra Papel Tijera.
The main purpose of this transformation was to preserve the original structure
of the building, which dates back to 1872 and is the work of architect Fontseré
Mestres, who was also the author of El Born Market. The original metal columns
and bóveda catalana which has been
uncovered, define this historic interior.
Faro Barcelona's extensive catalogue is the fruit of the work of its internal design team Faro Lab, as well as the collaboration with
different design studios such as Nahtrang, Estudi Ribaudí, Jordi Busquets, OIKO
Design and Bohman & Folenius, among others.
Founded in
1945 by the López family, Faro Barcelona began life as a table lamp manufacturer.
Over the years, the company has consolidated itself as leader in the lighting
and ventilation sector. Faro Barcelona is today a Spanish multinational
with affiliates in Hong Kong, China and the US. It has a team of over 100 direct employees
and is present in 114 countries, with over 7,000 clients. Faro Barcelona is today a creative, unique,
conscious and state-of-the-art company. Innovation is one of its main purposes.
To do so, it has multidisciplinary, transversal teams engaged in undertaking
strategic projects in circular economy, IoT, additive manufacturing (3D
printing), BIM and BIG DATA as a previous step along with IOT and to prepare for
the AI era. Specific teams dedicated to measuring and minimising the
environmental impact of our activity.